We are dedicated to the preservation and enjoyment of the rich heritage of satire and melody created by William Gilbert and Arthur Sullivan. It is our purpose to bring the comic genius of their work to modern audiences in the high Victorian style in which they were originally presented.
There were no motion pictures, video tapes or DVD's produced of these intelligent and humorous musical shows when they were first written and produced in the late 19th century. But W.S. Gilbert staged these works himself, and he made careful notes of his staging decisions, notes which were preserved and which our artistic director uses as performance guides.
By staging these shows as they were first presented to an admiring public – our theatergoers experience the thorough charm of the original productions!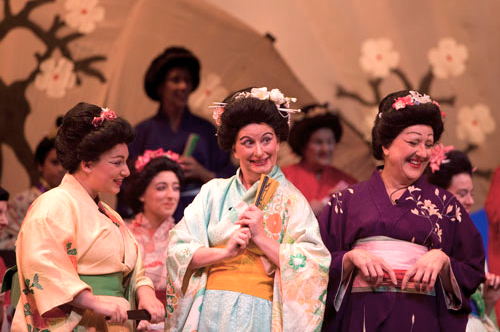 And that is why you should come to see our show.

Connecticut Gilbert and Sullivan Society
Comments from Iolanthe 2015
Talented cast, Full orchestra, Costumes, Scenery, Sound System, Excellent Directing!
When Principals were performing, the Seconds were continuing in the scene, making it come alive!
Always great, but especially good this year. One of my favorites..ever!
Best show I've seen in the last three years!
We loved it. What fun!
We are very pleased to have CG&SS in our area. I have seen the Doyle Carte back in the sixtys. Your productions are certainly comparable. We can't say enough good things about CG&SS!
There are new people who have joined and played main roles. They are wonderful!
I've seen and/or have been in 6 or 7 CG&SS shows. This one was REALLY outstanding!
I liked all the players/singers and their overall quality. No sour notes and a good many sweet ones!
The casting was brilliant. Chorus was great. Sets were imaginative. Orchestra well played. A very good production!
Liked the Super Titles!
It was so good that I'm moving up my membership from Patron to Angel!
Sound/miking was excellent. Helped that the voices of all were clear and strong.Pretty much made the overhead projection (Super Titles) of the lyrics unnecessary. However do like to refer to them from time to time and they are not in the least obtrusive!
Comments from Mikado 2010
I've been in the show twice myself, so I know it well.  I was absolutely delighted with this production.  The set and the lighting were spectacular and occasioned applause the moment we saw them.  The show was well cast, many very professional moments and lovely voices.  Special kudos to Ko-ko, Yum-Yum, and Katisha!!  It was one of the funniest and enjoyable productions of any G&S show I've seen in years.  Congratulations to all!  And special thanks for excellent direction by Bob Cumming and Maestro Dreslin!
Great performance!
We are long time G&S lovers!  It was a real pleasure for us.
Knowing the show, I was tempted to sing along, but did not."…"Because of my schedule, I currently cannot participate in CG&SS but really miss singing the music.  I know of other audience members that were singing along."  (suggested doing a G&S sing-a-long)
It was a first-class production.
Loved the Mikado on Sat & Sun.
"The Mikado was the first G&S performance for both my wife and me.  We thought it was fantastic.  The MHS auditorium was very spacious and because we got there early, we had great seats.  We definitely plan to attend the next CG&SS production.  Incidentally, I was not even aware of CG&SS until I heard about it from my friend.  Great job!!!"
I know U produce a DVD, but if U were to have produced a CD I would have purchased one.
Thank U* most *EXCELLENT performance & "carry on"!  See U next year!
I believe that the performance being professional in every sense might warrant performing at a professional theater, enhancing the overall experience.
A wonderful production.  I loved all of the principal singers and actors.  The staging was very well done, and professional as all CT G&S productions have been.
Great production, as always.
Have seen all of your productions – the last 9 years.
Mikado was wonderful.  A very nice production.  I hope we do Ruddigore next year.
A group of senior citizens attended and they thoroughly enjoyed it.
I have been attending your G&S productions for the past 5 years.  This was absolutely the very BEST production I have seen.  Fabulous job on everything.  It was thoroughly enjoyable.  My friend also agreed.
I was surprised how good the production of the Mikado was.  Sets, costumes and staging were fine.  The men's chorus was clear and precise; the lead singers, both male and female, were excellent.  As to the staging, it was great, and the use of snapping fans was innovative.
Very professional.  Talent was great.  Lighting was very good.  Missed Leighton and Bill performing.
Mavelous, professional event!!
The Mikado himself was perfect. I think I'm in love.